What We're About!
We challenge C3 students to own their faith and live it out every day with relevant teaching, intimate worship and small group discussion. Students ask questions and learn from each other in a safe and encouraging environment. Our goal is to lead all students to a healthy relationship with Christ and with others, a faith that outlasts just middle school and high school, but lasts for eternity. We encourage you to become a part of something bigger than yourself.
Sunday School
9:00 AM
Upstairs of worship center, in the Youth Room
Axios Teen Service
6:30 PM
We meet every Wednesday night for our middle + high school service. We will start together upstairs in the youth room before breaking up into small groups.
Sunday School
Sunday, 9:00 AM
This world looks nothing like the promised perfect kingdom of God. And yet we as God's people must live in it every day. In The Book of 1 Peter, we will walk through the short letter and unpack the importance of our witness in this world.
Axios
Wednesday, 6:30 PM
We all desire to be known. God has wired us for intimacy in relationships with Himself and with others. In this three-week series, we will discuss how we are known by God, the importance of being known by others, and knowing ourselves well!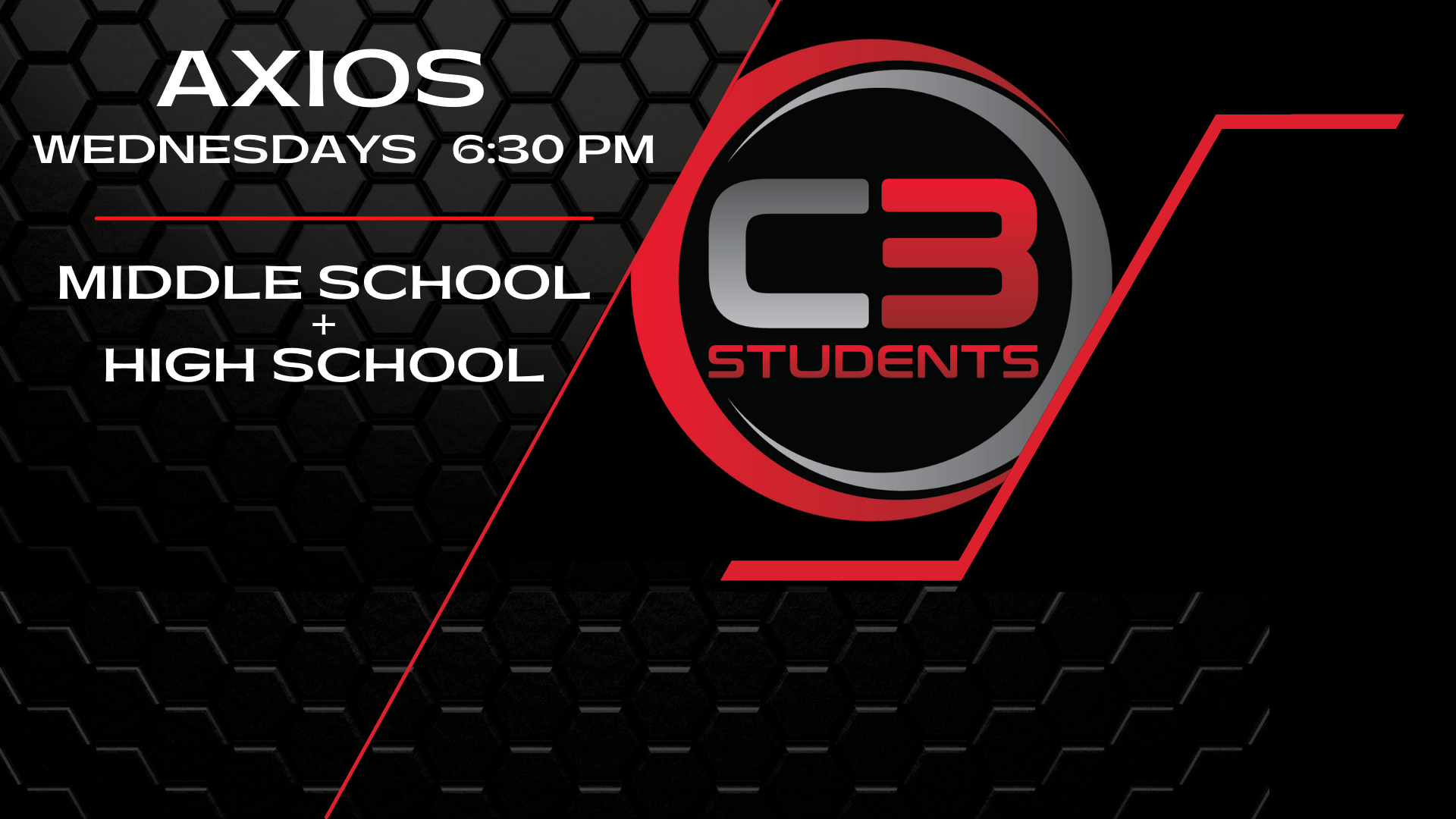 Join us every Wednesday night for Axios at 6:30 in the worship center. We will play games, hear a sermon and then go to small groups that are broken up by gender.
Join us for Sunday School every week at 9:30 AM. We meet upstairs of the worship center in the Youth Room. Breakfast is served weekly.
April 12 is the week after Spring Break and will also be our next Small Group Night!
Our next C3 Students Parent Meeting will be a lunch meeting after church on April 16 in the fellowship hall. We will also release the 2023 Summer of Fun calendar at the lunch meeting. Lunch will be provided. Please RSVP so we can have enough food.
CLICK TO RSVP
April 23 we will have One More Thing after church. We will grab lunch then go to the movies to watch the Super Mario Bros. movie. Bring money for lunch and the movie and any snacks you may want to have.
You can sign up today for our 2023 Mission Trip to Big Creek Missions in Kentucky by clicking the link below. Once there, you will "sign up" for a new account and select our group code name which is C3 Students. The cost is $259. There is a $50 deposit. All money is paid to the church.
MISSION TRIP SIGN UP
Our high school students (rising 9th - class of 2023) are going to North Georgia Christian Camp for Senior 2 Week, July 2-7. Use the code CW50 to save 50% off the cost of camp.
CAMP SIGN UP
Our middle school students (rising 6-8th grade) are going to North Georgia Christian Camp for Teener 3 Week, July 16-21. Use the code CW50 to save 50% off the cost of camp.
CAMP SIGN UP
Receive Text Updates
To recieve text updates from C3 Students, text @c3ministry to 81010 to stay up to date with all that's happening here at C3 Students.
Are you a parent of a C3 Student? Want to stay up to date on upcoming events, weekly study notes, and important C3 student information? You can start receiving our Weekly Update by email by sending me an email to andy@christwaychristian.com. Put "add me" in the subject line along with your first and last name.