What We're About!
We challenge C3 students to own their faith and live it out every day with relevant teaching, intimate worship and small group discussion. Students ask questions and learn from each other in a safe and encouraging environment. Our goal is to lead all students to a healthy relationship with Christ and with others, a faith that outlasts just middle school and high school, but lasts for eternity. We encourage you to become a part of something bigger than yourself.
Times and Locations
Sunday School
9:30 AM
Upstairs of worship center, in the Youth Room
Axios Teen Service
Doors Open at 6:00
Meet in the worship center

Current Series - Never Give Up
We've all had or will have experiences that confirm that life can be tough, but have you ever noticed how some people are able to bounce back from the setbacks they experience? What's their secret? For almost everyone, it all comes down to one word: resilience. In our series "Never Give Up", we're going to focus on becoming the kind of people who can get through difficult experiences with a sense of hope, by building our resilience. We'll talk about what resilience is, and what it has to do with God, others, and our view of ourselves. By the end of this series, our hope is, we'll be better equipped to discover how hope changes everything.
Week 1 - April 20 & 24
2 Corinthians 11:23-27, Philippians 3:13-14, John 16:33
Resilience helps us never give up.

Week 2 - April 27 & May 1
John 16:33
Never give up on God.

Week 3 - May 8
2 Timothy 4:11
Never give up on others.

Week 4 - May 11 & 15
Romans 8:18, 2 Corinthians 4:17
Never give up on you.

Download the YouVersion Bible app or click the link below for daily devotions that are tied to our series.
READ WITH US
2022 NEW ORLEANS MISSION TRIP
WHO: High School and Middle School Students (students going into 6th grade and graduated seniors) + Adults
WHAT: Mission trip to team with Crossroads Missions in New Orleans, LA.
WHEN: Sunday, June 12 through Saturday, June 18, 2022
COST: $375, this covers lodging, work supplies, and outreach materials, and all meals except for lunch coming to and from New Orleans and . You are responsible for snacks and or souvenirs if you choose to purchase them.
VARIOUS INFORMATION
• We will meet in fellowship hall @ 7 am Sunday, June 12 to load, pray and GO! Please be on time or early. It's approx. 10-hour drive with food and gas stops.
• Eat breakfast before you arrive.
• We will leave Saturday am and head home.
• Next meeting is on May 8.
• Be in prayer for our trip!
PAYMENT SCHEDULE
• The money is due on or before Sunday, May 8, (This is just over one month from our trip date and Crossroads Missions states that all funds must be in one month before our trip)
More Info, Contact - Andy Albea: andy@christwaychristian.com
What's Happening
Our next Blitz is June 5 when we Blitz Firehouse Subs on Washington Rd in front of Carolina Pottery.
Calling all rising 6th grade students. We will have a special event just for you to officially welcome you to the C3 Student Ministry. This is a FREE event.
CLICK HERE TO SIGN UP
WHAT: A contest to see who can come up with the craziest outfit from the Goodwill Store
WHO: Middle + High School Students
WHEN: Tuesday, June 21 from 10:30 AM - 1:00 PM
COST: Money for shopping and money for lunch at Five Guys
ADDITIONAL INFO: We will go to several Goodwill Stores to shop then we will change into whatever we bought and go eat lunch. The person with the best getup will win free lunch from Andy.

CLICK TO SIGN UP
C3 Students are needed at VBS. Come and volunteer from 6:15-9:00 then stay afterwards for VBS After Dark.
Sunday - Movie Night: Thor
Monday - Night of Champions
Tuesday - Capture the Flag
Wednesday - The Tonight Show
Thursday - Man Hunt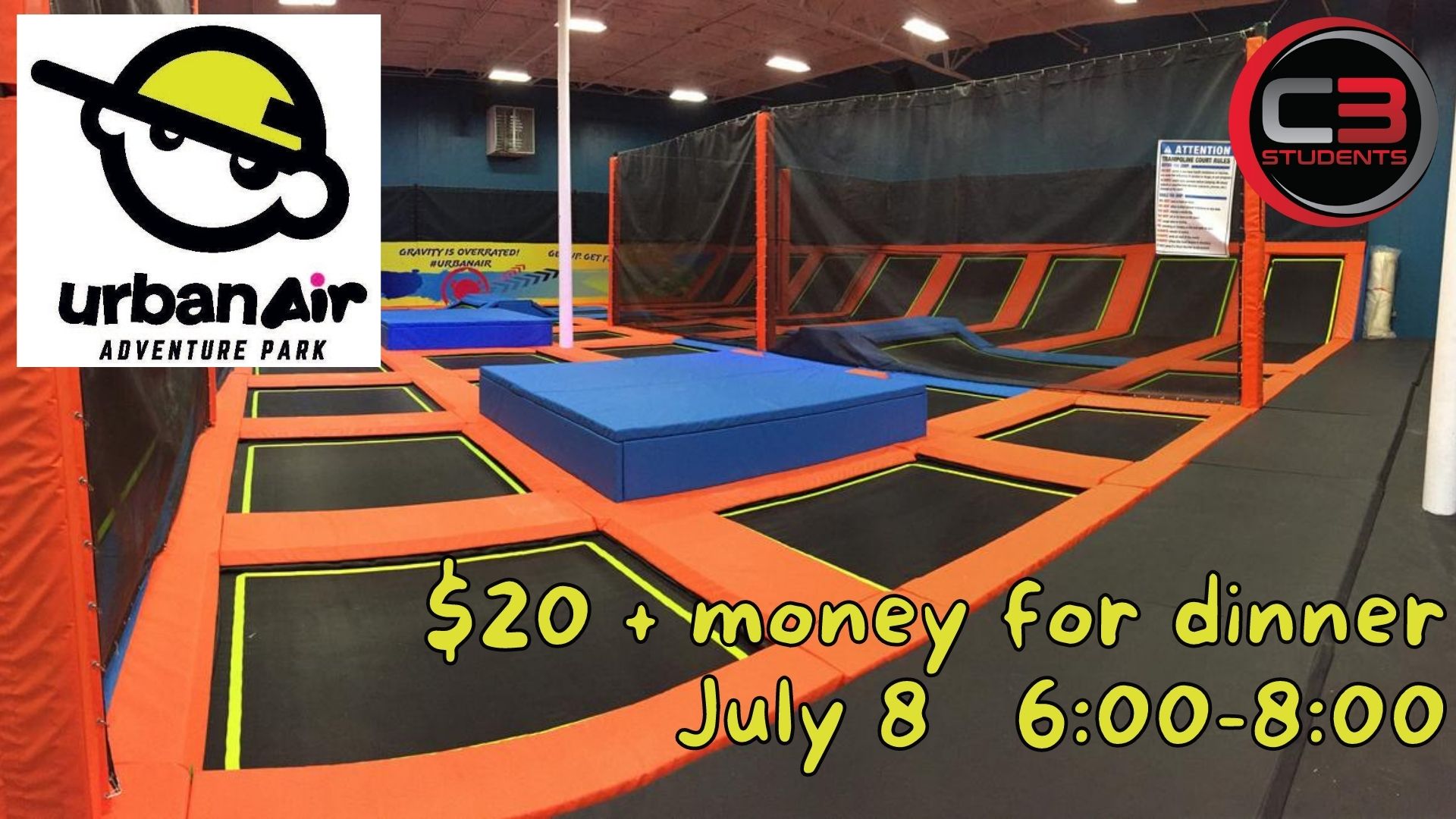 WHAT: Dinner and fun at Urban Air
WHO: Middle + High School Students
WHEN: Friday, July 8 from 6:00 PM - 8:30 PM
COST: $20 + Money for dinner
ADDITIONAL INFO: Everyone going will need to have a waiver on file at Urban Air
CLICK TO SIGN UP
What: Trivia Night fun for the whole family
When: Saturday, July 9 from 6:00-7:30
Cost: FREE
CLICK HERE TO SIGN UP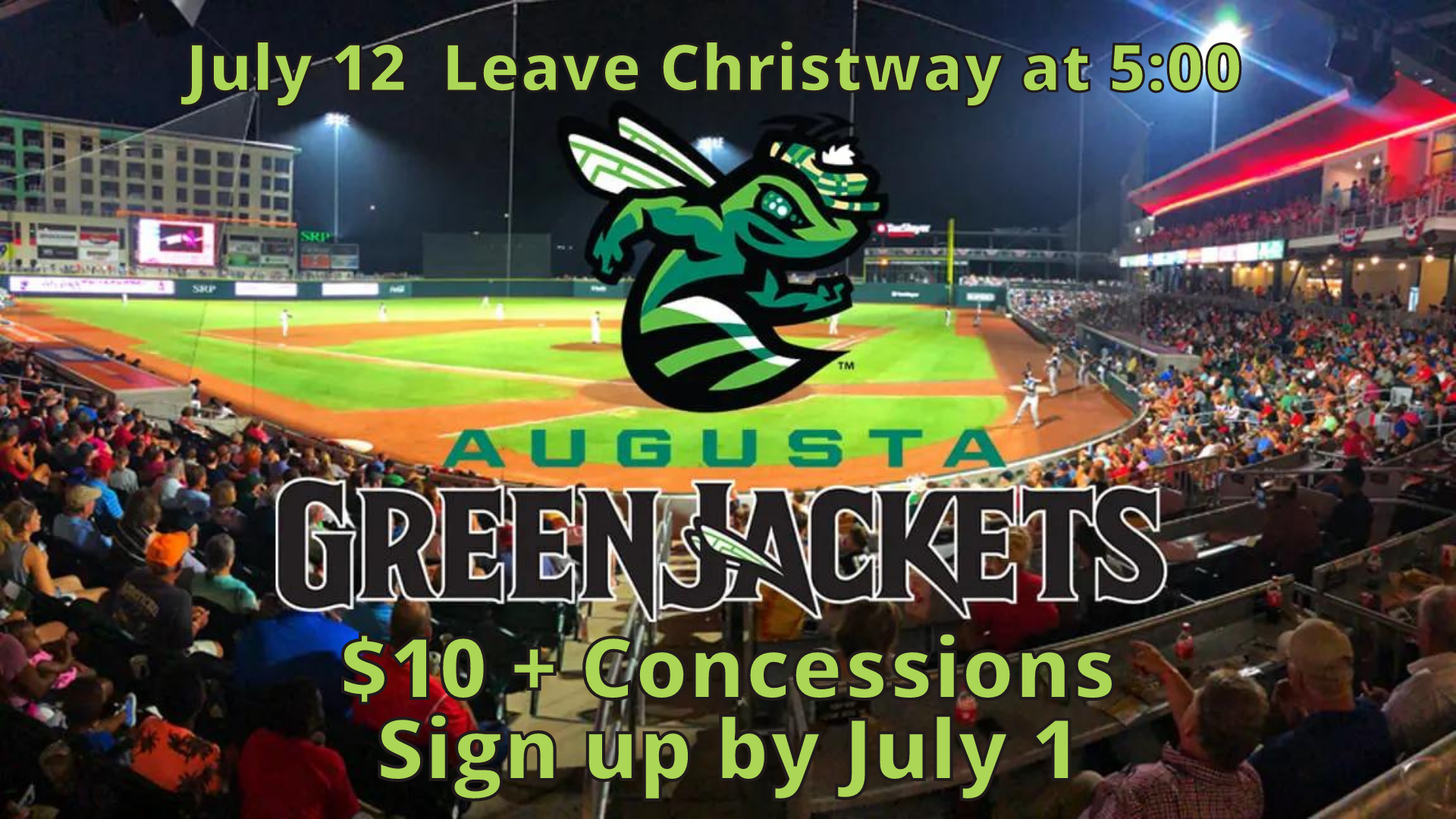 WHAT: Augusta Greenjackets vs Fredericksburg Nationals
WHO: Middle + High School Students
WHEN: Tuesday, July 12 - We will leave Christway at 5:00.
COST: $10 + Money for dinner at the concession stands. Hotdogs, Nachos, Popcorn, and Coca-Cola products are $2 each on Tuesday games.
ADDITIONAL INFO: Last day to sign up is July 1 so we can buy tickets together.
SIGN UP HERE
Teener 3 at North Georgia Christian Camp is for rising 6th - 8th grade students. Registration is NOW OPEN!
CLICK HERE TO SIGN UP
Join us for our July Blitz as we Blitz the new KFC in Evans.
Join us for Sunday School every week at 9:30 AM. We meet upstairs of the worship center in the Youth Room. Breakfast is served weekly.
COMMUNICATION
Receive Text Updates
To recieve text updates from C3 Students, text @c3ministry to 81010 to stay up to date with all that's happening here at C3 Students.
Are you a parent of a C3 Student? Want to stay up to date on upcoming events, weekly study notes, and important C3 student information? You can start receiving our Weekly Update by email by sending me an email to andy@christwaychristian.com. Put "add me" in the subject line along with your first and last name.